Posts for tag: jaw pain
By Acuña Dentistry
June 21, 2020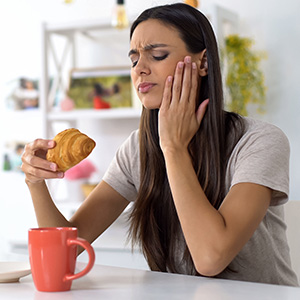 Eating is like breathing: We often do it without much thought. But if you suffer from chronic jaw pain, every bite can get your attention—and not in a good way. What's worse, in an effort to avoid the pain associated with a temporomandibular joint disorder (TMD) you might make less than nutritious food choices.
But there are ways to eat healthy without aggravating the symptoms of TMD—not just your choices of food, but also how you prepare and actually eat the food. Here are 4 tips that can help you manage eating with TMD.
Choose moist foods in sauces or gravy. A lot of chewing action is intended to mix saliva with tough or dry foods to make them easier to digest. But this extra jaw action can irritate the jaw joints and muscles and increase your discomfort. To help reduce your jaws' work load, choose foods with a high moisture content, or cook them in a sauce or gravy.
Peel foods with skin. Fresh fruits and vegetables are an excellent source of vitamins and minerals, but their tough outer skin or peel is often hard to chew. Although these parts may also contain nutrients, removing them allows you to gain most of the nutritional benefit of the food while making it easier to chew it.
Cut foods into bite-size pieces. A lot of discomfort with TMD occurs with having to open the jaws wide to accommodate large pieces of food. To minimize the amount of jaw opening, take time to cut all your food portions down into smaller pieces. Doing so can help you avoid unnecessary discomfort.
Practice deliberate eating. All of us can benefit from slower, more methodical eating, but it's especially helpful for someone with TMD. By chewing deliberately and slowly and doing your best to limit jaw opening, you can enhance your comfort level.
Eating often becomes an arduous task for someone with TMD that increases pain and stress. But practicing these tips can make your dining experience easier—and more enjoyable.
If you would like more information on managing TMD in everyday life, please contact us or schedule an appointment for a consultation. You can also learn more about this topic by reading the Dear Doctor magazine article "What to Eat When TMJ Pain Flares Up."
By Acuña Dentistry
October 13, 2017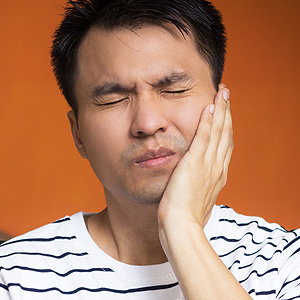 If you're suffering from jaw pain or impaired function, it may not be the only source of chronic pain in your body. Of the millions of adults with temporomandibular joint disorders (TMD), many have also been diagnosed — among other conditions — with fibromyalgia, rheumatoid arthritis or sleep problems.
TMD is actually a group of painful disorders that affect the jaw joints, muscles and surrounding tissues. Besides pain, other symptoms include popping, clicking or grating sounds during jaw movement and a restricted range of motion for the lower jaw. Although we can't yet pinpoint a definite cause, TMD is closely associated with stress, grinding and clenching habits or injury.
It's not yet clear about the possible connections between TMD and other systemic conditions. But roughly two-thirds of those diagnosed with TMD also report three or more related health conditions. Debilitating pain and joint impairment seem to be the common thread among them all. The similarities warrant further research in hopes of new treatment options for each of them.
As for TMD, current treatment options break down into two basic categories: a traditional, conservative approach and a more interventional one. Of the first category, at least 90% of individuals find relief from treatments like thermal therapy (like alternating hot and cold compresses to the jaw), physical therapy, medication or mouth guards to reduce teeth clenching.
The alternative approach, surgery, seeks to correct problems with the jaw joints and supporting muscles. The results, however, have been mixed: in one recent survey a little more than a third of TMD patients who underwent surgery saw any improvement; what's more alarming, just under half believed their condition worsened after surgery.
With that in mind, most dentists recommend the first approach initially for TMD. Only if those therapies don't provide satisfactory relief or the case is extreme, would we then consider surgery. It's also advisable for you to seek a second opinion if you're presented with a surgical option.
Hopefully, further research into the connections between TMD and other inflammatory diseases may yield future therapies. The results could help you enjoy a more pain-free life as well as a healthy mouth.
If you would like more information on TMD, please contact us or schedule an appointment for a consultation. You can also learn more about this topic by reading the Dear Doctor magazine article "Chronic Jaw Pain and Associated Conditions."
By Acuña Dentistry
August 28, 2017
For patients experiencing constant pain in the area near the jaw, ear or muscles on the side of the place, TMD may be the reason. TMJ or
the temporomandibular joint is the joint affected by this dysfunction. TMD describes the group of conditions that include pain or dysfunction of the muscles around this joint. Dr. Edgar Acuña, in Winter Park, Florida, is a dentist from Acuna Dentistry that can help treat this issue.
About Jaw Pain
Most often the pain associated with TMD is because of the two TMJs that connect the lower jaw, mandible and the temporal bone of the skull on each side. These complex joints allow movement when chewing or talking. Any of these parts can become the source of the problem. If you are in pain or are having trouble opening or closing your jaw, your Winter Park, Florida, dentist from Acuna Dentistry can examine you and determine the best treatment for your oral health situation.
Some signs and symptoms of TMD/TMJ pain include:
popping or clicking sound
joint or muscle pain
Also, muscle spasms can be helped with stretching exercises. Anti-inflammatory medications or muscle relaxants can help provide relief too. Severe TMD cases may require more intense treatment including bridgework or other dental restorations, cortisone injections of the joint or orthodontics. Trying a variety of conservative treatments may help you find the most effective treatment for your particular situation. It is rare for surgery to be required for TMD cases, however, a dentist can track your progress and determine the right course of action over time for your particular situation.
To learn more about treating your TMD or TMJ pain and to schedule an informative appointment, contact your Winter Park, Florida, dentist from Acuna Dentistry today by calling 407-647-6261.