Posts for tag: crowns
By Acuña Dentistry
September 19, 2021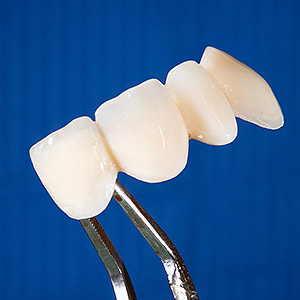 Our primary aim as dentists is to preserve teeth. There are times, however, when preserving a tooth is no longer worth the effort and we must recommend removing it. Fortunately, extracted teeth can be replaced with a functional and attractive restoration.
Today's top tooth-replacement option is the dental implant. Composed of a titanium metal post imbedded into the jawbone, a single dental implant can replace an individual tooth or a series of implants can support other restorations for multiple teeth. Besides being incredibly life-like, dental implants are highly durable and can last for decades.
But dental implants aren't an optimal choice for everyone. Their cost often matches their status as the premier tooth replacement method. And because they require a minimum amount of bone for proper implantation, they're not always feasible for patients with extensive bone loss.
But even if dental implants aren't right for you, and you want a fixed restoration rather than dentures, you still have options. What's more, they've been around for decades!
One is a bonded crown, which works particularly well for a tooth excessively damaged by decay, excessive wear or fractures. After removing all of the damaged portions and shaping the remaining tooth, we cement a life-like crown, custom created for that particular tooth, over the remaining structure.
Besides improving appearance, a crown also protects the tooth and restores its function. One thing to remember, though, is although the crown itself is impervious to disease, the remainder of the natural tooth isn't. It's important then to brush and floss around crowned teeth like any other tooth and see a dentist regularly for cleanings.
Dental bridges are a fixed solution for extracted teeth. It's composed of prosthetic teeth to replace those missing bonded together with supporting crowns on both ends. These crowned teeth are known as abutments, and, depending on how many teeth are being replaced, we may need to increase the number of abutments to support the bridge.
Although durable, crowns or bridges typically don't match the longevity of an implant. And, implants don't require the permanent alteration of support teeth as is necessary with a bridge. But when the choice of implants isn't on the table, these traditional restorations can be an effective dental solution.
If you would like more information on crown or bridge restorations, please contact us or schedule an appointment for a consultation. You can also learn more about this topic by reading the Dear Doctor magazine article "Crowns & Bridgework."
By Acuña Dentistry
September 10, 2018
Dental crowns are an essential means for restoring damaged or unattractive teeth. A well-crafted crown not only functions well, it looks and blends seamlessly with the rest of the natural teeth.
Crowns are artificial caps that cover an entire visible tooth, often used for heavily decayed or damaged teeth or as added protection after a root canal treatment. Most crowns are produced by a dental lab, but some dentists are now creating them in-office with computer-based milling equipment. On the whole, the various crowns now available function adequately as teeth—but they can vary in their appearance quality.
In the early to mid 20th Century the all-metal crown was the standard; but while durable, it could be less than eye-pleasing. Although more life-like dental porcelain existed at the time, it tended to be brittle and could easily shatter under chewing stress.
Dentists then developed a crown that combined the strength of metal with the attractiveness of porcelain: the porcelain fused to metal or PFM crown. The PFM crown had a hollow, metal substructure that was cemented over the tooth. To this metal base was fused an outer shell of porcelain that gave the crown an attractive finish.
The PFM reigned as the most widely used crown until the mid 2000s. By then improved forms of porcelain reinforced with stronger materials like Lucite had made possible an all-ceramic crown. They're now the most common crown used today, beautifully life-like yet durable without the need for a metal base.
All-ceramics may be the most common type of crown installed today, but past favorites' metal and PFM are still available and sometimes used. So depending on the type and location of the tooth and your own expectations, there's a right crown for you.
However, not all crowns even among all-ceramic have the same level of aesthetic quality or cost—the more life-like, the more expensive. If you have dental insurance, your plan's benefits might be based on a utilitarian but less attractive crown. You may have to pay more out of pocket for the crown you and your dentist believe is best for you.
Whatever you choose, though, your modern dental crown will do an admirable, functional job. And it can certainly improve your natural tooth's appearance.
If you would like more information on dental restorations, please contact us or schedule an appointment for a consultation.
By Acuña Dentistry
November 23, 2016
Let's say you're traveling to Italy to surprise your girlfriend, who is competing in an alpine ski race… and when you lower the scarf that's covering your face, you reveal to the assembled paparazzi that one of your front teeth is missing. What will you do about this dental dilemma?
Sound far-fetched? It recently happened to one of the most recognized figures in sports — Tiger Woods. There's still some uncertainty about exactly how this tooth was taken out: Was it a collision with a cameraman, as Woods' agent reported… or did Woods already have some problems with the tooth, as others have speculated? We still don't know for sure, but the big question is: What happens next?
Fortunately, contemporary dentistry offers several good solutions for the problem of missing teeth. Which one is best? It depends on each individual's particular situation.
Let's say that the visible part of the tooth (the crown) has been damaged by a dental trauma (such as a collision or a blow to the face), but the tooth still has healthy roots. In this case, it's often possible to keep the roots and replace the tooth above the gum line with a crown restoration (also called a cap). Crowns are generally made to order in a dental lab, and are placed on a prepared tooth in a procedure that requires two office visits: one to prepare the tooth for restoration and to make a model of the mouth and the second to place the custom-manufactured crown and complete the restoration. However, in some cases, crowns can be made on special machinery right in the dental office, and placed during the same visit.
But what happens if the root isn't viable — for example, if the tooth is deeply fractured, or completely knocked out and unable to be successfully re-implanted?
In that case, a dental implant is probably the best option for tooth replacement. An implant consists of a screw-like post of titanium metal that is inserted into the jawbone during a minor surgical procedure. Titanium has a unique property: It can fuse with living bone tissue, allowing it to act as a secure anchor for the replacement tooth system. The crown of the implant is similar to the one mentioned above, except that it's made to attach to the titanium implant instead of the natural tooth.
Dental implants look, function and "feel" just like natural teeth — and with proper care, they can last a lifetime. Although they may be initially expensive, their quality and longevity makes them a good value over the long term. A less-costly alternative is traditional bridgework — but this method requires some dental work on the adjacent, healthy teeth; plus, it isn't expected to last as long as an implant, and it may make the teeth more prone to problems down the road.
What will the acclaimed golfer do? No doubt Tiger's dentist will help him make the right tooth-replacement decision.
If you have a gap in your grin — whatever the cause — contact us or schedule an appointment for a consultation, and find out which tooth-replacement system is right for you. You can learn more in the Dear Doctor magazine articles "Dental Implant Surgery" and "Crowns & Bridgework."