Posts for: January, 2021
By Acuña Dentistry
January 11, 2021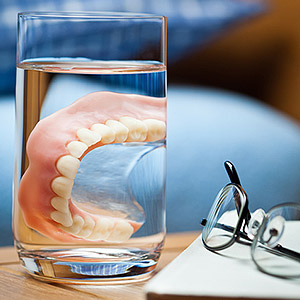 Dentures have come a long way since George Washington's time. Today, they're more comfortable, more secure and more lifelike than our first president's famous hippopotamus ivory appliance.
But one thing hasn't changed: Dentures still require regular care and cleaning. And one of the best things you can do for both your dentures and your health is to take them out at night when you go to bed.
Modern dentures are often so comfortable to wear, it's easy to forget you have them in your mouth. But setting a daily habit of taking them out when you turn in for the night will help you avoid a few potential problems.
For one, wearing dentures 24/7 can increase your risk for both oral and general diseases. Constant denture wear can cause greater accumulations of dental plaque, a thin biofilm responsible for gum disease and inflammation. The increase in bacteria could also make you more susceptible to pneumonia and other diseases.
Wearing your dentures non-stop can also worsen bone loss, a common problem associated with dentures. Normally, the biting forces generated when we chew stimulate bone growth in the jaw. A person loses much of this stimulation when they lose teeth, resulting in gradual bone loss.
Dentures can't replace this lost stimulation, and the pressure they exert on the jaw's bony ridges they rest upon can accelerate the process of bone loss. In time, any bone loss could affect the denture's fit as the bone beneath them gradually shrinks. By taking them out at night, you can help slow the pace of bone loss.
In addition to giving them and your mouth a rest at night, be sure you're also keeping your dentures clean: Take them out and rinse them off after meals and brush them with a small amount of antibacterial soap (not toothpaste) at least once a day. And don't forget to brush your gums and tongue every day with a soft toothbrush (different from your denture brush) to further reduce dental plaque.
If you would like more information on denture care, please contact us or schedule an appointment for a consultation. You can also learn more about this topic by reading the Dear Doctor magazine article "Sleeping in Dentures."
By Acuña Dentistry
January 01, 2021
Dentists and oral surgeons remove millions of teeth every year, most without any adverse aftereffects. But about 2% of patients experience a dry socket, a condition that, although not dangerous to health, can be quite painful.
Also known as alveolar osteitis, a dry socket occurs when the blood clot that normally forms right after extraction doesn't form or becomes lost later. The clot serves as a barrier for the underlying bone and nerves during the healing process; without it these tissues can become irritated from contact with air, food or fluids.
Dry sockets (which usually occur in the back, lower molars) are fortunately rare, mainly in patients over 25, smokers or women using oral contraceptives. Patients also have a higher risk of developing a dry socket if they attempt certain activities too soon after tooth extraction like vigorous chewing or brushing that may dislodge the protective clot.
You can reduce your chances of a dry socket after a tooth extraction with a few simple guidelines. Unless advised otherwise by your dentist, avoid brushing the day after extraction and gently rinse the mouth instead. It also helps to avoid hot liquids and eat softer foods for a few days. If you smoke, you should avoid smoking during this time and use a nicotine patch if necessary.
Over the next few days, you should remain alert for any signs of a dry socket, often a dull, throbbing pain that radiates outward toward the ears, and a bad taste or mouth odor. A prompt visit to the dentist will help alleviate these symptoms, often in just a few minutes.
To treat it, a dentist will typically irrigate the socket and apply a medicated dressing, which you would need to change every other day for up to a week. After that, you'll leave the dressing in place for a while as you heal.
A dry socket doesn't interfere with the healing process: Your extraction site will heal whether or not you have one. But prevention and treatment for a dry socket will help ensure your healing after an extracted tooth is much less uncomfortable.
If you would like more information on dry socket after tooth extraction, please contact us or schedule an appointment for a consultation. You can also learn more about this topic by reading the Dear Doctor magazine article "Dry Socket."