Posts for: December, 2020
By Acuña Dentistry
December 21, 2020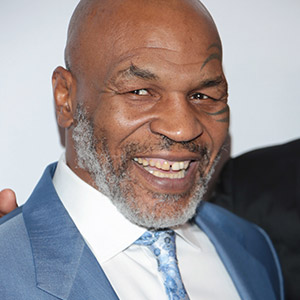 Mike Tyson made a splash when he faced off against sharks during the Discovery Channel's Shark Week 2020. But there's bigger news for fans of the former undisputed world heavyweight champion: After a 15-year absence, he will enter the ring again for two exhibition matches in the Fall. However, it's not just Tyson's boxing action that made news during his 20-year career. His teeth have also gotten their fair share of press.
Tyson used to be known for two distinctive gold-capped teeth in the front left side of his mouth. He made headlines when he lost one of the shiny caps—not from a blow by a fellow pugilist but from being headbutted by his pet tiger as Tyson leaned in for a kiss. Tyson's teeth again garnered attention when he had his recognizable gold caps replaced with tooth-colored restorations. But the world champion may be best known, dentally at least, for his trademark tooth gap, or "diastema" in dentist-speak. Several years ago, he had the gap closed in a dental makeover, but he soon regretted the move. After all, the gap was a signature look for him, so he had it put back in.
That's one thing about cosmetic dentistry: With today's advanced technology and techniques, you can choose a dental makeover to suit your individual taste and personality.
An obvious example is teeth whitening. This common cosmetic treatment is not a one-size-fits-all option. You can choose whether you want eye-catching Hollywood white or a more natural shade.
If your teeth have chips or other small imperfections, bonding may be the solution for you. In dental bonding, tooth-colored material is placed on your tooth in layers and then hardened with a special light. The material is matched to your other teeth so the repaired tooth fits right in. This procedure can usually be done in just one office visit.
For moderate flaws or severe discoloration, porcelain veneers can dramatically improve your appearance. These thin, tooth-colored shells cover the front surface of the tooth—the side that shows when you smile. Veneers are custom-crafted for the ideal individualized look.
Dental crowns can restore single teeth or replace missing teeth as part of a dental bridge. Again, they are manufactured to your specifications. With restorations like crowns and veneers, the smallest detail can be replicated to fit in with your natural teeth—even down to the ridges on the tooth's surface.
And if, like Mike Tyson, you have a gap between your teeth that makes your smile unique, there's no reason to give that up if you opt for a smile makeover. Whether you would like a small cosmetic enhancement or are looking for a more dramatic transformation, we can work with you to devise a treatment plan that is right for you.
If you would like more information about smile-enhancing dental treatments, please contact us or schedule a consultation. You can learn more in the Dear Doctor magazine article "Cosmetic Dentistry: A Time for Change."
By Acuña Dentistry
December 09, 2020

If you're among the estimated 14 million families with a healthcare flexible spending account (FSA), New Year's Eve has an added meaning—that's typically the deadline for using any current year funds. Since any remaining money in your FSA could go poof at the stroke of midnight on December 31st, you might be looking for a way to spend it. If so, consider a dental health boost for you and your family.
FSAs were created in the 1970s by the U.S. Government as a salary benefit that employers could offer employees. Instead of receiving all of their pay as taxable income, employees could designate a portion of it (currently up to $2,650) in a non-taxable account to use for certain medical and dental expenses. An FSA thus provides families a way to pay for uncovered healthcare costs while saving on their taxes.
But because most FSAs expire by the end of the year and then restart with a fresh balance in the new year, there's a natural concern that you will "use or lose" remaining money. People thus begin looking for eligible expenses like treatments, prescribed medications or eyeglasses. They can't, however, use them for items like over-the-counter medical products (though some pain relievers get a pass this year because of COVID-19), as well as most things cosmetic.
The same generally holds true for dental expenses—you won't be able to use FSA funds for procedures like teeth whitening or veneers. Toothbrushes and other routine oral care products are also ineligible, although you may be able to buy items like a water flosser if your dentist issues you a Letter of Medical Necessity (LMN).
Still, there's a wide range of eligible dental items you could pay for with remaining FSA funds.
Prevention measures. Any procedures or treatments intended to prevent disease are typically FSA-eligible. These can include measures like regular dental cleanings, sealants or fluoride applications.
Disease treatment. FSAs cover procedures like fillings, extractions, gum surgery or root canals. This could include repairing damage from disease through dental bonding or crowns, which might also improve your smile.
Dental restorations. Missing teeth restorations like bridgework, dentures or dental implants are also covered. These may improve your appearance, but they primarily restore disrupted dental function.
Out-of-pocket expenses. Although you can't pay for dental insurance premiums, an FSA may be able to help in other ways. You can use FSA funds for co-pays or any remaining out-of-pocket expenses.
If you're not sure what dental expenses might be eligible for FSA funds, give our office a call and we can provide you guidance. If FSA funds can help, you'll be able to improve your dental health—and possibly your appearance—before you ring in 2021.
If you would like more information about managing your dental care, please contact us or schedule a consultation.