Posts for: June, 2019
By Acuña Dentistry
June 17, 2019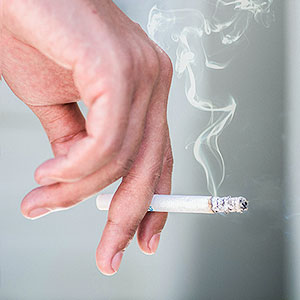 Although costly in the beginning, dental implants often turn out to be the least expensive tooth replacement option. That's because their enviable record for longevity often outpaces dentures or bridges. Over the long-term you might spend less for implants than these other restorations.
But even with the high success rate of dental implants (greater than 95% survive the ten-year mark), we can't guarantee they won't fail. And if you're a tobacco smoker, the risk of failure might be even higher. One study, for example, found early implant failures were twice the rate for smokers over non-smokers. Although implant failures overall are low, smoking seems to be a factor in those that do.
There are a number of reasons to account for this. For one thing, inhaled smoke can damage salivary glands, reducing the flow of this important fluid. Saliva helps control bacterial growth and neutralize mouth acid, so without it you're more susceptible to tooth decay or periodontal (gum) disease. Either infection could ultimately weaken implant-supporting bone.
The nicotine in tobacco can also restrict oral blood vessels and lower their ability to supply antibodies and nutrients to the teeth and gums. This slows healing, which could have one particular effect on implant durability.
During the intervening weeks between implant placement and crown attachment, the implant's titanium post attracts bone cells that grow and adhere to its surface. The effects of nicotine on healing, especially right after implant surgery, can interfere with this integration process so that the implant doesn't anchor in the bone as well as it should.
If you're a smoker, you can increase your chances of implant success—and have a healthier mouth overall—by quitting smoking beforehand with the help of a cessation program. Or at the least, consider stopping smoking for one week before implant surgery and for two weeks afterward.
And be sure to brush and floss your teeth daily and visit your dentist regularly to keep your teeth and gums as healthy as possible. Stopping smoking and practicing effective oral hygiene could make a big difference in the success or failure of your implant.
If you would like more information on smoking and your dental health, please contact us or schedule an appointment for a consultation. You can also learn more about this topic by reading the Dear Doctor magazine article "Dental Implants & Smoking."
By Acuña Dentistry
June 07, 2019
The 2019 Grammy Awards was a star-studded night packed with memorable performances. One standout came from the young Canadian singer Shawn Mendes, who sang a powerful duet of his hit song "In My Blood" with pop diva Miley Cyrus. But that duo's stellar smiles weren't always quite as camera-ready as they looked that night.
"I had braces for four and a half years," Mendes told an interviewer not long ago. "There's lots and lots and lots of photo evidence, I'm sure you can pull up a few." (In fact, finding one is as easy as searching "Sean Mendes braces.")
Wearing braces puts Mendes in good company: It's estimated that over 4 million people in the U.S. alone wear braces in a typical year—and about a quarter of them are adults! (And by the way: When she was a teenager, Miley Cyrus had braces, too!)
Today, there are a number of alternatives to traditional metal braces, such as tooth-colored braces, clear plastic aligners, and invisible lingual braces (the kind Cyrus wore). However, regular metal braces remain the most common choice for orthodontic treatment. They are often the most economical option, and can be used to treat a wide variety of bite problems (which dentists call malocclusions).
Having straighter teeth can boost your self-confidence—along with helping you bite, breathe, chew, and even speak more effectively. Plus, teeth that are in good alignment and have adequate space in between are easier to clean; this can help you keep your mouth free of gum disease and tooth decay for years to come.
Many people think getting braces is something that happens in adolescence—but as long as your mouth is otherwise healthy, there's no upper age limit for orthodontic treatment. In fact, many celebrities—like Lauren Hutton, Tom Cruise and Faith Hill—got braces as adults. But if traditional braces aren't a good fit with your self-image, it's possible that one of the less noticeable options, such as lingual braces or clear aligners, could work for you.
What's the first step to getting straighter teeth? Come in to the office for an evaluation! We will give you a complete oral examination to find out if there are any problems (like gum disease or tooth decay) that could interfere with orthodontic treatment. Then we will determine exactly how your teeth should be re-positioned to achieve a better smile, and recommend one or more options to get you there.
If you have questions about orthodontic treatment, please contact our office or schedule a consultation. You can read more in the Dear Doctor magazine articles "The Magic of Orthodontics" and "Lingual Braces: A Truly Invisible Way to Straighten Teeth."