Posts for: February, 2019
By Acuña Dentistry
February 17, 2019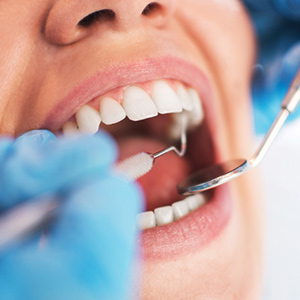 Periodontal (gum) disease is as common as it is destructive. Almost half of all adults 30 and older have some form—and those numbers increase to nearly three-quarters by age 65.
Fortunately, we have effective ways to treat this bacterial infection, especially if we catch it early. By thoroughly removing all plaque, the disease-causing, bacterial biofilm that accumulates on tooth surfaces, we can stop the infection and help the gums return to normal.
Unfortunately, though, you're at a greater risk for a repeat infection if you've already had gum disease. To lower your chances of future occurrences, we'll need to take your regular dental exams and cleanings to another level.
Although everyone benefits from routine dental care, if you've had gum disease you may see these and other changes in your normal dental visits.
More frequent visits. For most people, the frequency norm between dental cleanings and exams is about six months. But we may recommend more visits for you as a former gum disease patient: depending on the advancement of your disease, we might see you every three months once you've completed your initial treatment, and if your treatment required a periodontist, we may alternate maintenance appointments every three months.
Other treatments and medications. To control any increases in disease-causing bacteria, dentists may prescribe on-going medications or anti-bacterial applications. If you're on medication, we'll use your regular dental visits to monitor how well they're doing and modify your prescriptions as needed.
Long-term planning. Both dentist and patient must keep an eye out for the ongoing threat of another gum infection. It's helpful then to develop a plan for maintaining periodontal health and then revisiting and updating that plan as necessary. It may also be beneficial to perform certain procedures on the teeth and gums to make it easier to keep them clean in the future.
While everyone should take their oral health seriously, there's even greater reason to increase your vigilance if you've already had gum disease. With a little extra care, you can greatly reduce your chances of another bout with this destructive and aggressive disease.
If you would like more information on preventing recurring gum disease, please contact us or schedule an appointment for a consultation. You can also learn more about this topic by reading the Dear Doctor magazine article "Periodontal Cleanings."
By Acuña Dentistry
February 07, 2019
Mayim Bialik has spent a good part of her life in front of TV cameras: first as the child star of the hit comedy series Blossom, and more recently as Sheldon Cooper's love interest — a nerdy neuroscientist — on The Big Bang Theory. (In between, she actually earned a PhD in neuroscience from UCLA…but that's another story.) As a child, Bialik had a serious overbite — but with all her time on camera, braces were just not an option.
"I never had braces," she recently told Dear Doctor – Dentistry & Oral Health magazine. "I was on TV at the time, and there weren't a lot of creative solutions for kids who were on TV." Instead, her orthodontist managed to straighten her teeth using retainers and headgear worn only at night.
Today, there are several virtually invisible options available to fix orthodontic issues — and you don't have to be a child star to take advantage of them. In fact, both children and adults can benefit from these unobtrusive appliances.
Tooth colored braces are just like traditional metal braces, with one big difference: The brackets attached to teeth are made from a ceramic material that blends in with the natural color of teeth. All that's visible is the thin archwire that runs horizontally across the teeth — and from a distance it's hard to notice. Celebs like Tom Cruise and Faith Hill opted for this type of appliance.
Clear aligners are custom-made plastic trays that fit over the teeth. Each one, worn for about two weeks, moves the teeth just a bit; after several months, you'll see a big change for the better in your smile. Best of all, clear aligners are virtually impossible to notice while you're wearing them — which you'll need to do for 22 hours each day. But you can remove them to eat, or for special occasions. Zac Efron and Katherine Heigl, among others, chose to wear clear aligners.
Lingual braces really are invisible. That's because they go behind your teeth (on the tongue side), where they can't be seen; otherwise they are similar to traditional metal braces. Lingual braces are placed on teeth differently, and wearing them often takes some getting used to at first. But those trade-offs are worth it for plenty of people. Which celebs wore lingual braces? Rumor has it that the list includes some top models, a well-known pop singer, and at least one British royal.
So what's the best way to straighten your teeth and keep the orthodontic appliances unnoticeable? Just ask us! We'd be happy to help you choose the option that's just right for you. You'll get an individualized evaluation, a solution that fits your lifestyle — and a great-looking smile!
For more information about hard-to-see (or truly invisible) orthodontics, please contact our office or schedule a consultation. You can read more in the Dear Doctor magazine articles "Orthodontics for the Older Adult" and "Clear Aligners for Teenagers."